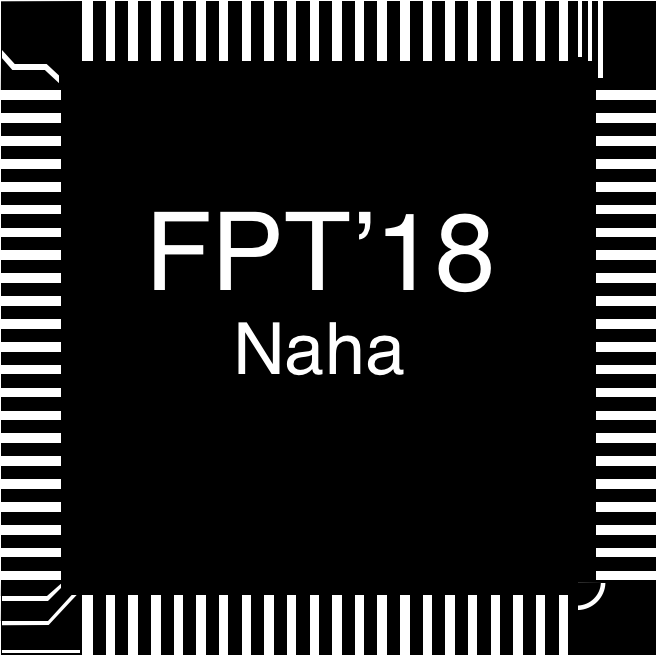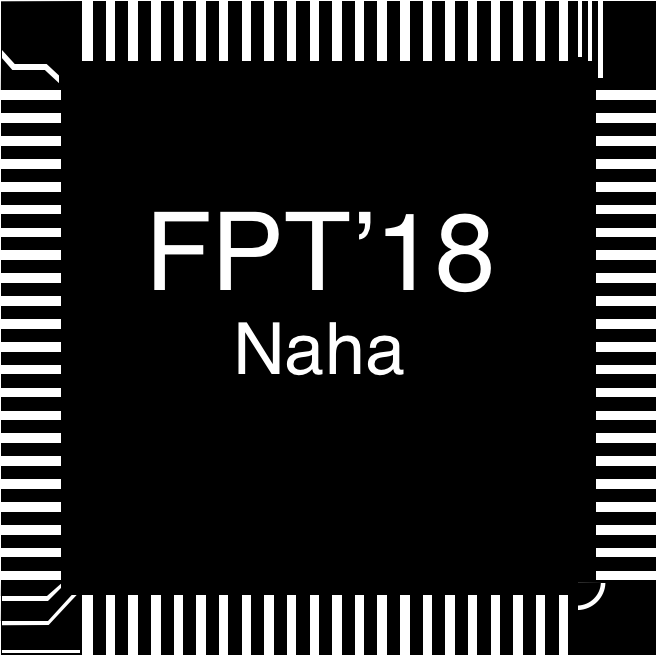 FPT'18
The 2018 International Conference on Field-Programmable Technology
December 10 - 14, 2018, Naha, Okinawa, Japan
News
Announcements of "Workshop on Embedded Machine Learning" has been updated. (November 15, 2018)
Information of "Call for Participation" has been published. (November 3, 2018)
Final-copy of regular/poster PhD/Demo/Contest papers due and authors registration deadline have been extended. (October 21, 2018)
Program schedule has been updated. (October 17, 2018)
Final-copy of regular/poster PhD/Demo/Contest papers due and authors registration deadline have been extended. (October 13, 2018)
Final-copy of regular/poster PhD/Demo/Contest papers due has been extended. (October 5, 2018)
Author notification date has been extended. (September 11, 2018)
Information of "Call for PhD Forum" and "Call for Demonstration" have been published. (August 21, 2018)
Information of "Registration" has been updated. (August 7, 2018)
Author notification date has been extended. (August 2, 2018)
Paper submission due was extended. (FINAL) (July 16, 2018)
Paper submission due was extended. (July 5, 2018)
The workshop dates were moved to December 11 and 14, 2018. (July 3, 2018)
"Submission site" has been opened. (June 19, 2018)
Information of "Call for Papers" has been updated. (June 4, 2018)
Information of "Venue" has been updated. (May 28, 2018)
Information of "Call for Supporters and Exhibits" is now available. (March 21, 2018)
FPGA Design Contest 2018 will be held in FPT'18. (March 21, 2018)
Information of "Call for Papers" has been updated. (March 21, 2018)
The workshop dates were moved to December 11 and 15, 2018. (March 21, 2018)
The Web has been opened. (December 12, 2017)
Important dates (all 23:59, AoE)
Title and abstract submission due: July 16 July 23, 2018 (extended, FINAL)
Paper submission due: July 23 July 30, 2018 (extended, FINAL)
Author notification: September 10 September 17, 2018 (extended)

Design competition abstract submission due: September 15, 2018

Design competition paper submission due: September 22, 2018 (extended firm deadline)

PhD forum paper due: September 20, 2018 (firm)

Demonstration paper due: September 20, 2018 (firm)

Author notification of PhD/Demo/Contest papers: September 29, 2018

Authors registration:by October 6 October 22 October 26 (HARD), 2018
Final-copy of PhD/Demo/Contest papers due: October 22 October 26 (HARD), 2018
Final-copy of regular/poster papers due: October 22 October 26 (HARD), 2018

Early registration due: October 31, 2018

Late registration due: November 25, 2018

Workshops, tutorials: December 10-14, 2018
FPT'18 Conference: December 12-14, 2018
Call for Supporters and Exhibits
FPGA Design Contest 2018
POLICY FOR PERSONAL INFORMATION PROTECTION:
In order to follow the personal information protection law in Japan and the general data protection regulation in EU, your personal information is handled as follows:
Used only for the process related to FPT'18.
Deleted from any records when you request.
Not disclosed to any third party other than the conference committee, secretariat, and subcontractors who follow the same policy.